Posted by: gardenville
Cuben Fiber / PrimaLoft One - Sleeping Bag -
02/11/08
11:57 PM
I made this Cuben Fiber / PrimaLoft Sleeping Bag in January 2007. It was one of four different sleeping bags I made to test or compare shell material and different types and brands of insulation.
I am posting this now "not" to feature the Cuben Fiber, but to show one way to go about making your own sleeping bag.
I don't really start with a paper pattern. I make one or more full size sleeping bags out of $1 a yard material until I like the fit. At first these prototype bags are not much more than something that look like a pillow case. When I am happy with the fit of the bag I add any extra items such as a hood or neck yoke then make sort of a paper pattern. I use a wide stitch so I can rip the thread out and reuse the material. Each bag is made to fit me snug. I also don't use a zipper but I do make the opening a bit larger so I can get in and out easy.
=====
The following was written and posted to BPL.com on 01/22/07.
=====
Cuben / PrimaLoft One - Sleeping Bag
Something happened this past week to cause me to re-look at some of the gear I planned to use on my up-coming hike. We had (for San Antonio) some very cold weather (down to 26 degrees) complete with a bad ice storm. On the good side it gave me a chance to try out some of my new MYOG stuff in the coldest weather so far this winter.
I was warm enough, but laying in my Bivy while it was raining ice pellets on my small Cuben tarp, gave me some time to re-think some of my gear.
Also last Saturday I received a VaprThrm NTS Shirt, VaprThrm NTS Pants and a new pair of VaprThrm Insulated Socks that I had ordered from RBH Designs.com. Over the last couple of days I have had a chance to wear the VB shirt and pants. I wanted to see at what "High" temperature they become to warm or cause to much sweat for ME to continue wearing them. Both the pants and shirt have the extra venting options. I have been surprised so far at the results. The temperatures for the 2 test have been 40 degrees and a light rain and 56 degrees and more or less clear. MY results might surprise you. The results of wearing the RBH VB shirt and pants are one of the big reasons I am re-thinking my winter gear list.
Back to the Sleeping Bag. I used Cuben fiber for the liner of a new Down quilt I had made. It uses Pertex Quantum for the outer shell. The combination of these two materials has worked well. Using Cuben for both the outer shell and the inter liner was next on my list.
For my first of several Cuben Sleeping Bags I will use two layers of PrimaLoft One (pre-quilted) 1.8 ounce per sq yard insulation. The clo for PrimaLoft One is 0.84 and using two layer will give me a total clo of about 2.54.
I started by making several sleeping bag prototypes until I had one that I liked. This is my final prototype.
1.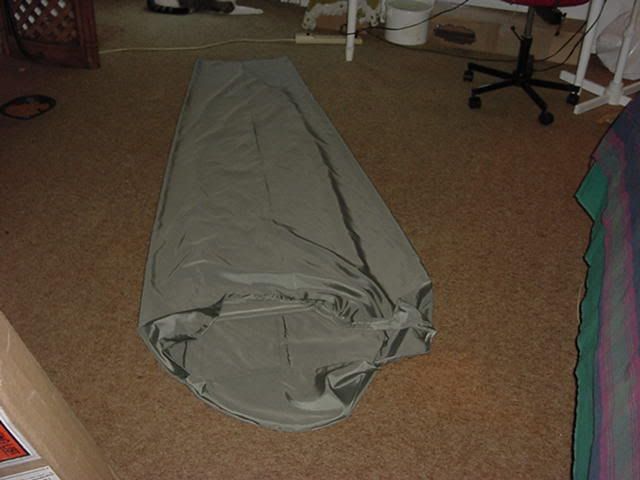 2.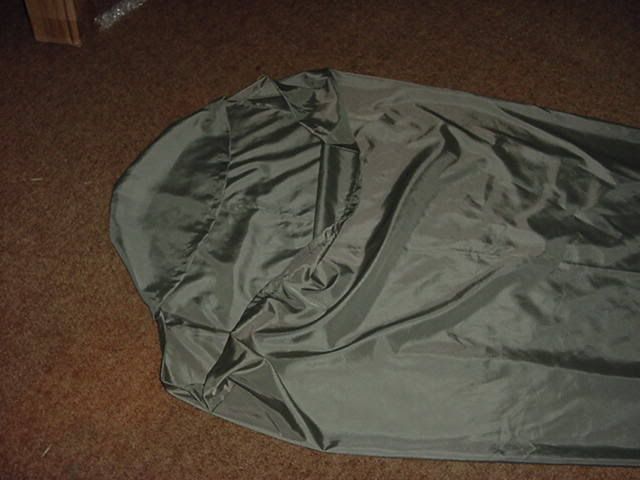 Next I made a full size "card stock paper"pattern.
3.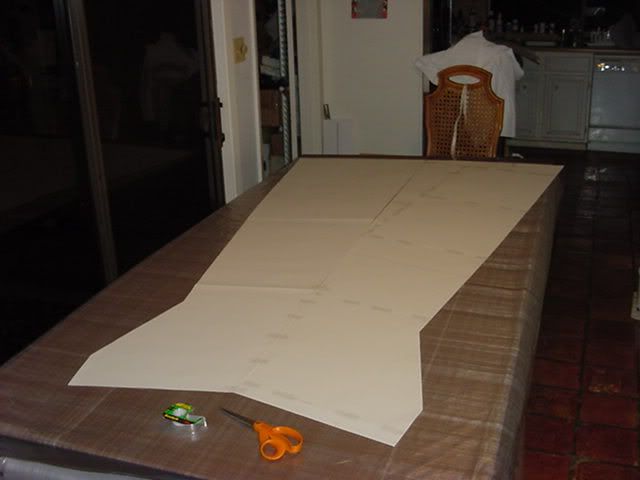 With a full size "card stock paper" pattern cutting both the Cuben fiber and the insulation was easy. I expect to start sewing on Tuesday.
4.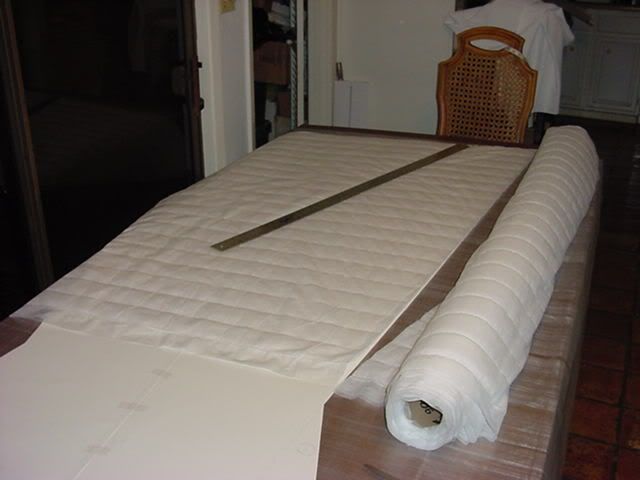 5.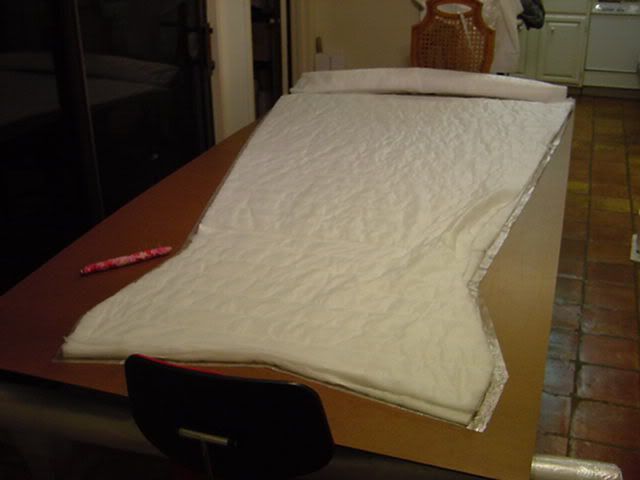 This picture shows how I overlapped the quilt seams.
6.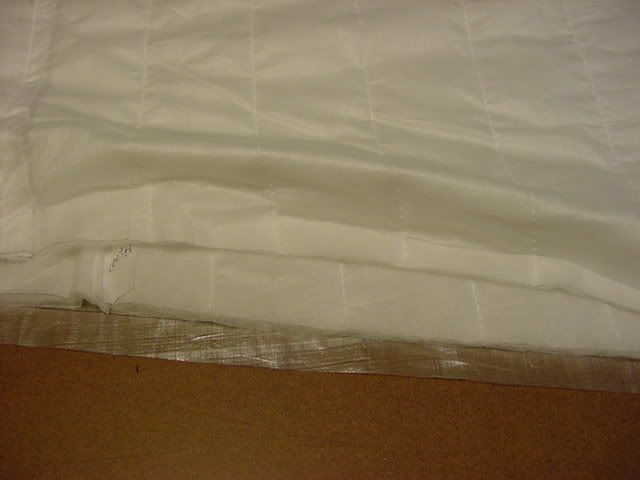 ==
I think I can say I am finished with my Cuben - PrimaLoft One / Sleeping Bag.
7.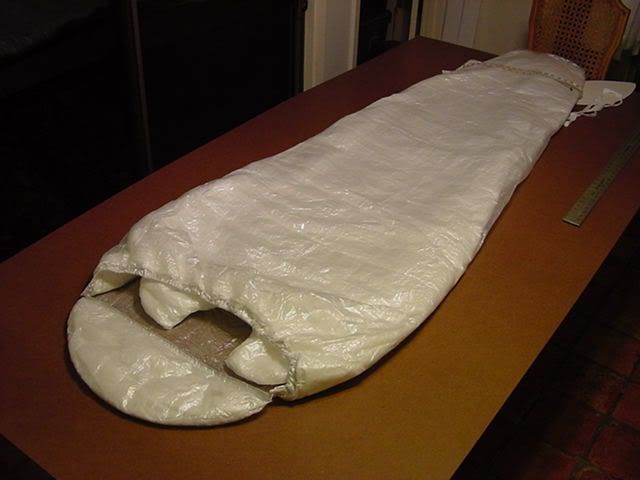 The bag is made out of all Cuben Fiber. The bag in its present size is 19.08 ounces. I say present size since when making it I added some extra length to it. When I made my last prototype I lost some of its length. The non-insulated insert for the bottom is tapered and when I sewed it to the rest of the bag the taper pulled in the sides and made it shorter. I added 10 inches to the length just to make sure it wasn't short. The current length is 89 inches. I will decide how long I want it but I am thinking about 80 inches. When I do this I think the weight will go down to 18 ounces or less.
The bag uses two layers of PrimaLoft One (Clo of 0.84) 1.8 ounce per sq yard pre-quilted insulation in the main bag. This gives me a total Clo of 3.02. I made a small hood for the bag that uses 3 layers of the same insulation. I also made a neck yoke and used 4 layers of insulation in it. I have elastic in both the hood and the opening of the bag. The bag is made to slide into. The circumference of the top part of the bag will open to 64 inches. The foot end (if cut at 80") will be 38 inches. The insulation is stabilized to the inter piece of Cuben so the shell has no seam lines to leak.
Yoke
8.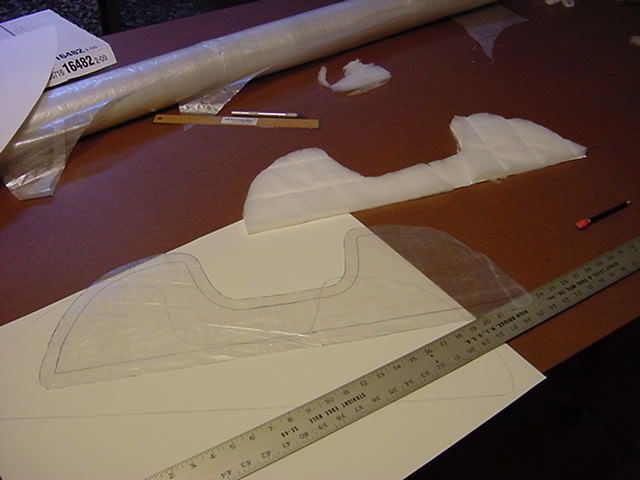 9.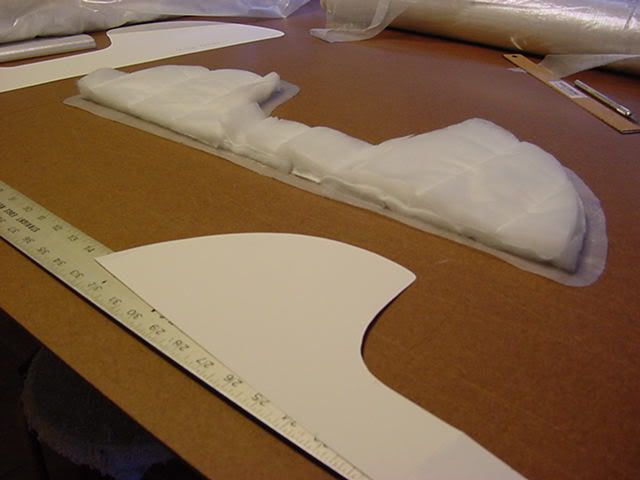 10.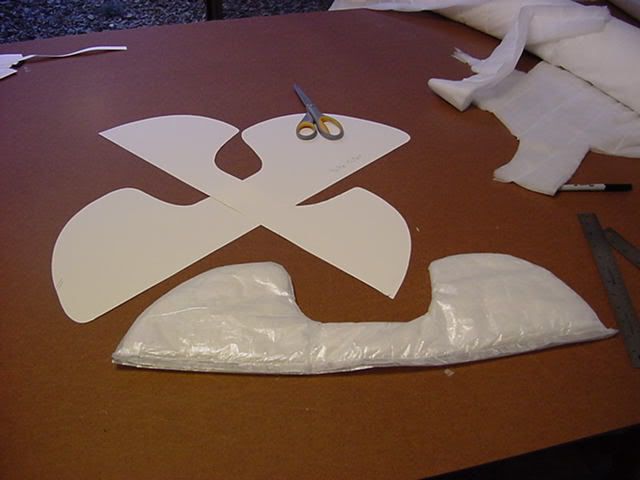 Hood and Non-Insulated Bottom
11.
12.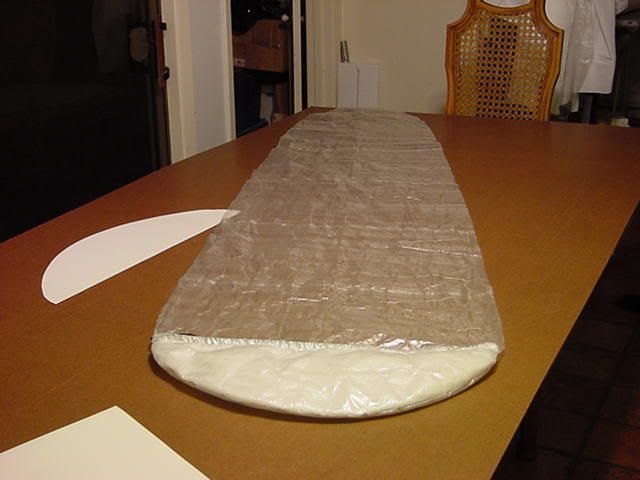 Finished - Sleeping Bag after trying it out.
13.
"Edited" Rolled up for packing.
14.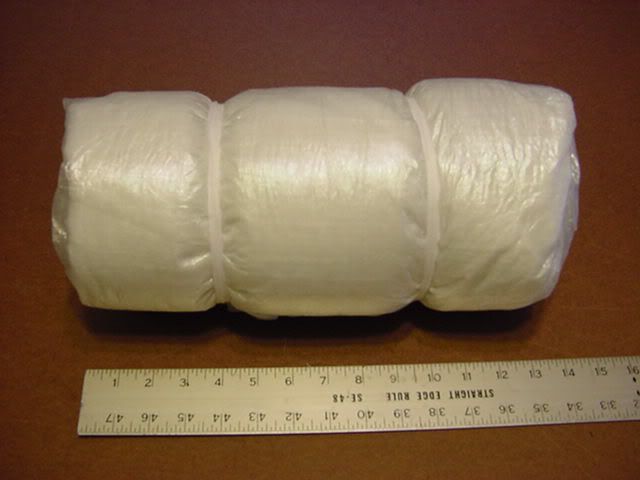 15.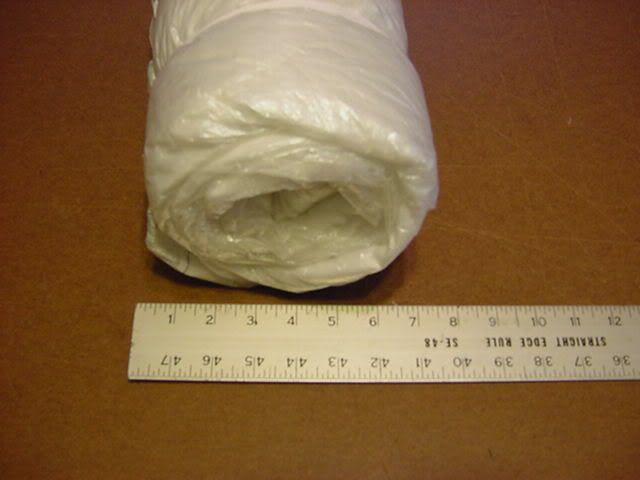 Detail of Neck Yoke and Hood. The Neck Yoke is 4 layers (Clo of 6.04) and the Hood is 3 layers (Clo of 4.53) of PrimaLoft One - 1.8 ounce per sq yard pre-quilted.
16.