Posted by: hootyhoo
J Faulk Compact Knock off -
06/09/08
04:36 AM
I watched Jason Klass' video on this stove and took interest. I had past experience with a Zip stove. I used one for a year off and on.
I just paid 3.95 for a 110 gram canister of snow peak gas. Denatured was 10.00 a gallon at the paint store last time I bought it and I'm sure it has gone up now. White gas stoves are too heavy and smelly. Esbit is EXPENSIVE and it smells. It costs 25.00 just to drive to the trailhead. I have curtailed my driving and only go to the places that are close and reasonable.
So I went out to the shop and whipped up a mock of the wood burning stove. I had a quart paint can and a food can. The drill bits were out there too. I found four screws and my wife loaned me the big paper clip things for pot supports. (She thought she was gonna get 'em back, ha).
I watched the video and paused it a few times to get some specs.
It took longer to watch the video than it did to make the stove. I tested it and was surprised at how welll it worked. And it fits perfectly inside my snowpeak 900. I made a pu coated bag for it so that it would not stink up the inside of my pot when stored. Then I took it this weekend. Wood was dry on Friday night and it did great.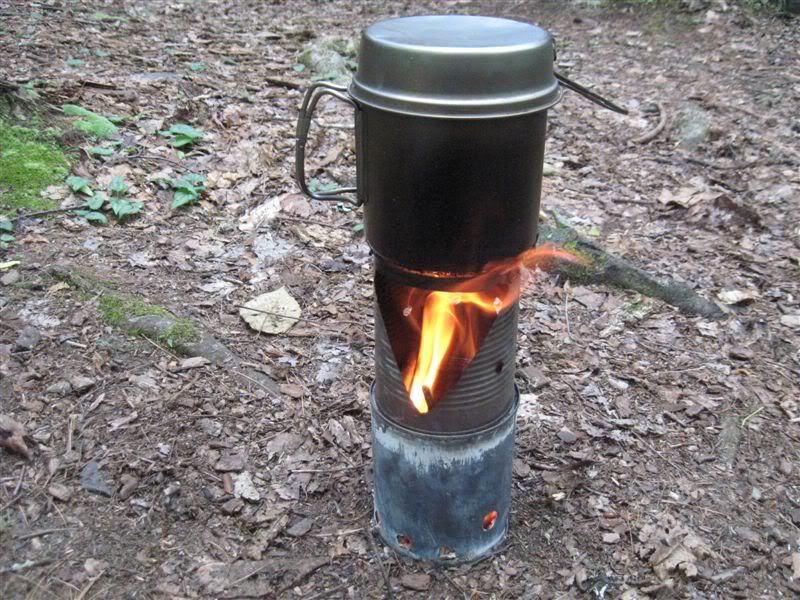 No limit to the amount of water I could boil - fuel was everywhere. I was at a well used site, but all that small wood that no one bothers to pick up is what I was after - and it was everywhere.
It rained hard on Friday night and into Saturday morning. To speed things up and avoid soaked wood, I just used the alcohol stove that I brought as a backup for breakfast and it performed well (not the best pot for this stove).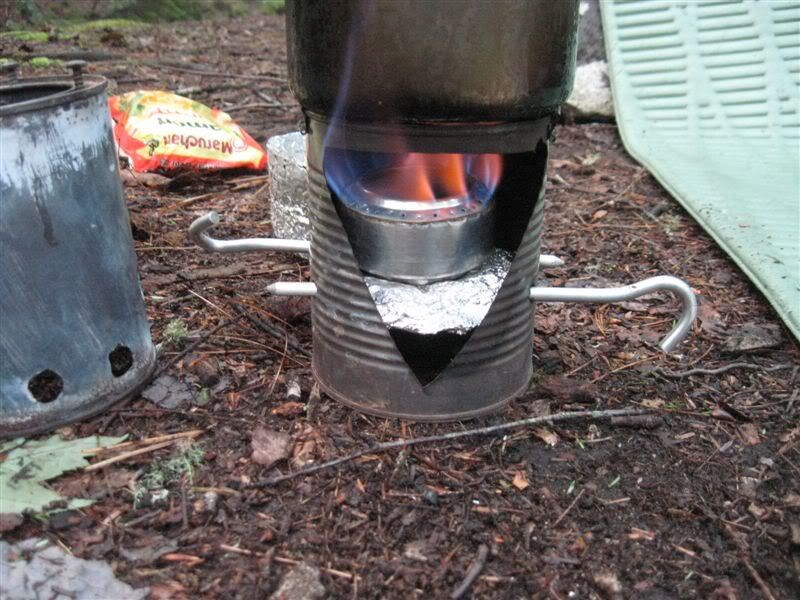 Saturday night the wood was still damp, but with some petroleum based cotton balls I easily got the stove burning. Once it is going there is no effort - even with damp wood.
2 problems I had --The pot supports did not work at all - they did not clamp hard enough to support a pot of water - I will change this. The alc stove supports should be well thought out - height is important.
This stove did very well. I would highly recommend buying the real thing based on my limited experience. Faulk seems to have a reasonable price and I am sure that his must work better than mine.
http://www.trailgear.org/