Posted by: PerryMK
homemade Aluminum Alice Pack frame -
05/13/12
04:11 PM
This time I went with Aluminum 6061-T6 tubing.
Start
I bent a 1/4 inch aluminum rod (not tubing), cut, and drilled holes to insert a paperclip so the loop would fall out.
Shoulder strap loop
I put a piece of tubing just wide enough to slip over the hip pad brace tubing to reinforce it at the weak point. This has to be done prior to bending, although the holes are drilled after.
hip pad brace reinforcement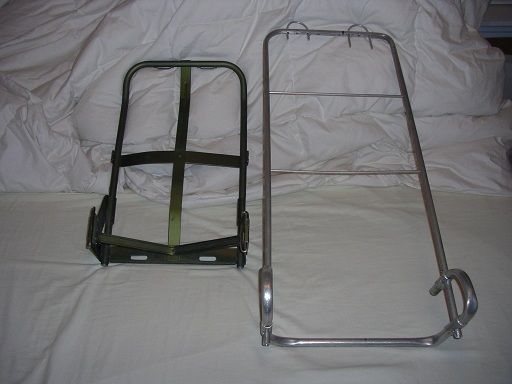 The original alice pack frame is 20 inches long and 2 pounds. My replacement is 1 pound 1 ounce and 30 inches long. Also, I can drill the holes for adjustments anywhere I like for a custom fit. I have some thinner wall Aluminum 6061-T6 tubing and may try one more. I may also modify the design. I have several ideas for that, depending on how the practical test goes.
The hip brace (10 speed handle bar looking thing) has a bad bend in it. It's perfectly functional though. The width came out right so I will be fitting it with a pack and testing it soon on one of my weekly loaded Saturday morning walks.
Material for this frame and the additional thinner tubing, including shipping, ran about $100. A couple of drill and dremel bits for another $20. Throw in a few miscellaneous items and the price for materials is around $60-70 per frame.